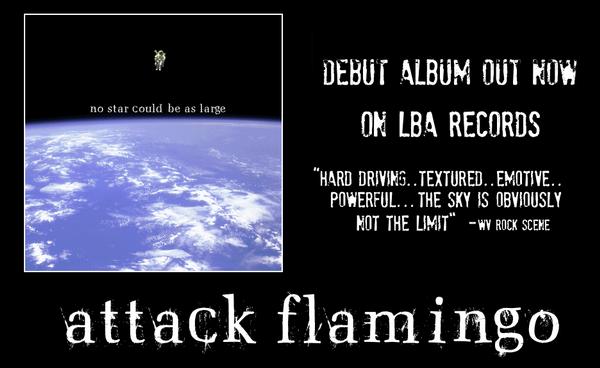 Review of CD (Links Are Disabled)

Check out our this nice review of our cd from the folks at WV RockSCENE.

We've always had a kind of love-hate relationship with most electronic bands. Some seem to go overboard with the knob tweaking and seem to lose direction, forgetting to write actual rock songs with hooks. We love the sounds and textures of a lot of electronic bands, but the songs, structurally, are no good.

On their debut effort "No Star Could Be As Large," Huntington's Attack Flamingo presents us with the perfect mix of hard driving space rock, heavily textured with synth, with actual drums, killer guitar solos and emotive, powerful vocals, with lyrics that read like they're straight out of an astronaut's diary.

It's basically a concept album about an astronaut's trip into outer space, beyond the moon, sun and stars, and into a meeting with god at the edge of space. Think Bowie's Major Tom meets some Smashing Pumpkins with God Lives Underwater's "Life In The So-Called Space Age" thrown in, and you're not too far off.

The band (Sean Knicely: vocals, guitar; Marty Brown: guitar; Joey Spurgeon: synth; Phil Smith: bass; Sam Hodge: drums) definitely combine for more than the sum of their parts.

Broken into "Earth," "Moon," "Star" and "Hero" themes, the CD is one of the rare occasions where a band's image (CD cover) and sound converge perfectly. That'll stay the way it is as long as Dido and her lawyers don't get their way. That's another story.

Right in time for the lucrative space tourism industry to take off, Attack Flamingo presents us with their own 2008 space odyssey.

The CD opens with the somber, slightly overdriven piano on "Songs of Home," which gives way to synth, as "The summer sun is singing songs of home" and "darkness surrounds" upon leaving Earth. There's more fat synth on "The Earth Grows Small Below" on the way to the moon, as there are "no more skies, hindering my eyes."

"Rocketship" enters "The Star" with hard rockin' guitar and an abandoned ship, leading to the instrumental "Drifting." "Burning" is one of the more rockin' tracks on the CD.

On "A Small Voice" the astronaut finds "The Hero" growing inside, as Knicely sings


"Come with me and we will fly
Come with me and we will never die"
The song has cool acoustic guitar with tribal sounding tom; a laid back sound that rolls right into the last track,

"Breathing,"

the final meeting between the astronaut and the star.

"Breathing" has a really cool kid chorus and, has the astronaut flying away with the star. While the lyrics reflect a spiritual yearning, and the spacesuit is but a thinly veiled metaphor for the flesh, the songs don't come off as something preachy, just deep.

Working with

Broadmoor's

Russ Fox seems to have helped emphasize the band's spacy sounds; panned synth accent the songs, with cool layered vocals, sometimes with cool effects. Fox, who plays guitar and sings in the atmospheric Huntington-based rock band The Red Velvet, lends his talents well on the CD. Listen to it with headphones for the maximum effect.

And while we here call the band "electronic" they're really a rock band with heavy synth elements. They call themselves "elecrtonica" and that works for us. The songs are mainly guitar-based rock with atmospheric synth. HEAVY atmospheric synth. This is one of the coolest CDs we've came across this year, and has been in the stereo steadily since we got it a while back; hence the delay for this review.

It'll be interesting to see where the band goes from here. They've recently added Barboursville-based DJ SirBoy (Hodge), and they've posted remixed versions of a few tunes on their MySpace profile, so that's promising. They've also just anounced they've signed with Sarasota, Florida-based

LBA Records

.

And, after going to the end of space and beyond, maybe they'll come back down to Earth on their next effort. Either way, whatever direction they take, for Attack Flamingo, the sky is obviously not the limit.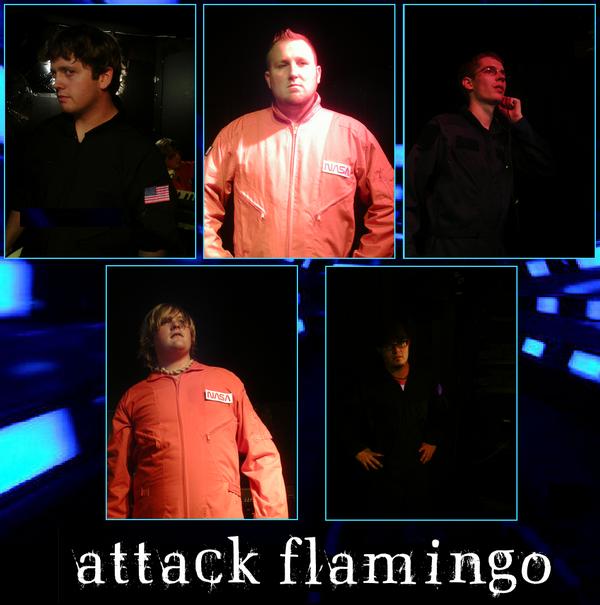 Dido cover 'attacks flamingo'
Stephanie Bartram
Media Credit: Cover courtesy of Attack Flamingo




Local band Attack Flamingo has found itself going head-to-head with award-winning artist Dido in a dispute over the cover art for her upcoming album.

The band's album, "No Star Could Be as Large," which was released in August, showcases a NASA photo of astronaut Bruce McCandless II taken from space. The photo was taken from NASA's Web site.

"NASA does not have a problem with the image being used on an album cover," said Connie Moore, spokeswoman for the photo department at NASA.

Dido's album, "Safe Trip Home," which dropped Nov. 4 on the Sony BMG label, displays the same NASA photo as used for the Attack Flamingo album.

"I was extremely upset when I saw her album cover," Sean Knisely, lead vocalist for Attack Flamingo said. "We need to do something about it, but I'm not sure the best course of action. It is really an unfortunate situation."

"She (released) an album this month and the album cover is the same as ours," Joseph Spurgeon, Attack Flamingo keyboarder, said. "When we first heard about it, we thought it was ridiculous. Then we really started thinking about it so we contacted an entertainment lawyer."

A representative from BMG U.S. Label Group could not be reached for comment and Damon Ellis of the business affairs administration department did not return three voice mails left by The Parthenon.

Despite seeking the advice of an entertainment lawyer, the band does not have the resources to fight the issue monetarily.

"(The lawyer) said that it may not be worth the money just to get them to change it," Spurgeon said. "But if we call them we can talk to them and most importantly tell them that we used it first so they don't try to turn around and sue us."

"It's not right," Knisely said. "It's just the principle that the established artist can do whatever she wants and squash us because we don't have $70,000 to go to court. It's just a bad system."

It has not been confirmed who chose the art for Dido's album, but Knisely said it is obvious who used the art first.
"Ours is the one that is original," Knisely said. "You can go to iTunes and see. It is in a tangible form on the same Internet service available to the world. Clearly they are both there and clearly we are the ones who had it first."

One of the bands biggest concerns regarding the issue is what potential fans might think.

"If you go to the store and see the local artist Attack Flamingo you are going to think, if you have never seen it before, 'they are ripping of Dido,' which is totally false," Knisely said. "It totally discredits what we've done, which I think is unfortunate."

Knisely said they are not considering a reprint of the album cover if this issue is not resolved.

"We have had the same idea the whole time," Knisely said. "We spent months thinking about what we were going to use for the album cover. There is nothing else that really works, and I don't see why we should have to change. That is just bullying."



Stephanie Bartram can be contacted at bartram29@marshall.edu.